BY ANTHONY CHIN

÷
(2020) is a text-based work which ruminates on the phrase "where do me begin and you end where do they begin and we end" as translated into 83 commonly-used languages in the world. In this work, Anthony Chin utilises Google translate as a mediating system, transforming its flawed translations into minuscule and porous graphite-borders that run across the exhibition space. Segmenting artworks from each other, the site-specific intervention is inspired by Benedict Anderson's theory of 'Print Capitalism'.
Chin's work is also a response to Leroy Sofyan's
The World of our Children Series
(2020), which focuses on the hegemony of knowledge-production and multiplicity of knowing.
---
Anthony Chin T W
, a designer turned visual artist, graduated with MA in industrial design from the Royal College of Art (UK). He creates site-specific and responsive installation works that poetically and conceptually respond to the architectural presence and history of sites. The work results from research and uses common materials to invoke particular places with attention to their geopolitical implications.
He has participated and exhibited in various local and overseas art shows, including Metropolitan Museum of Manila, Taiwan International Artist Village and three editions of OH! OpenHouse and had his first solo art show in Beijing's 798 art district.
︎
The World of our Children Series (2020)
BY LEROY SOFYAN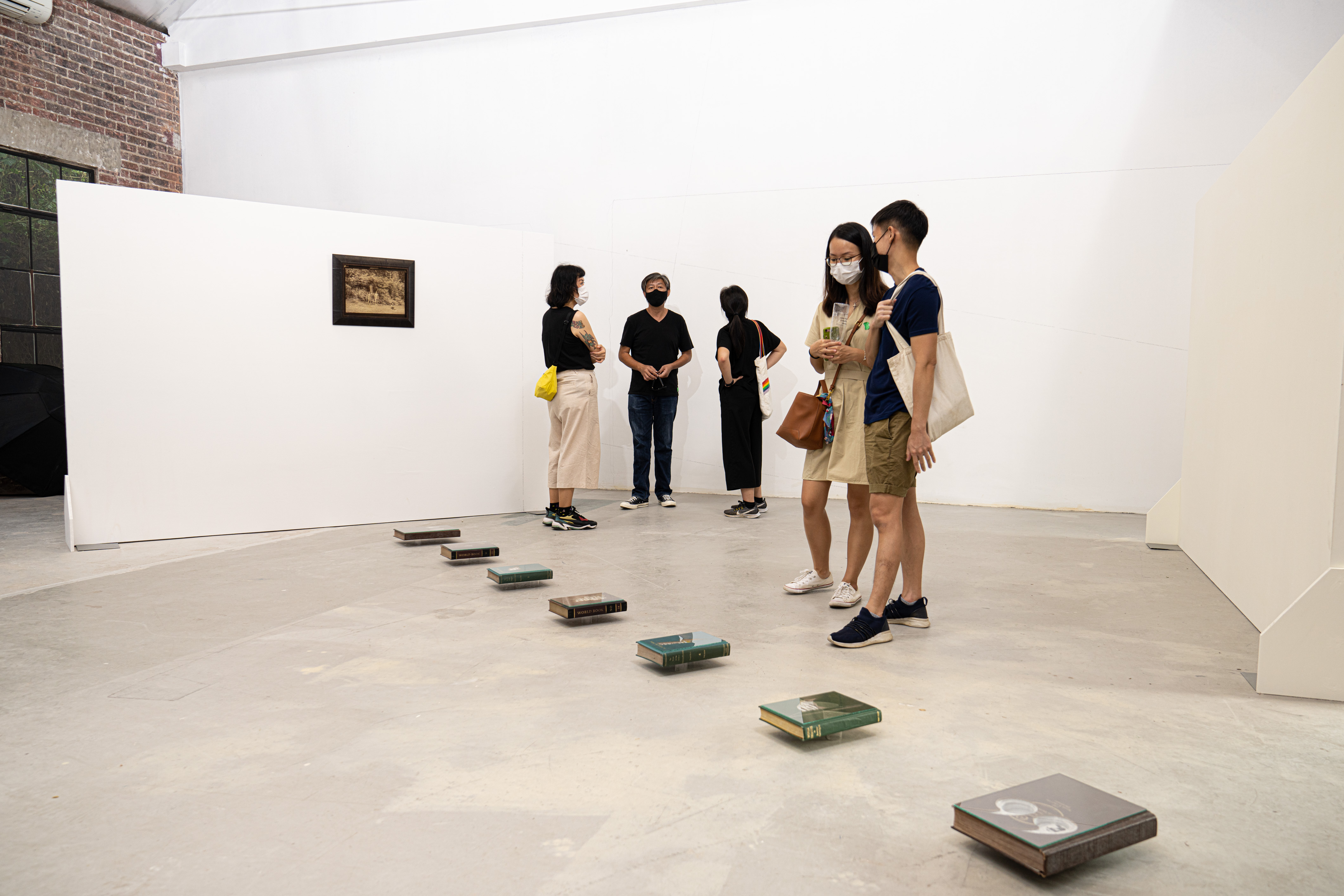 In Leroy Sofyan's
The World of our Children Series
(2020), the artist uses carved dictionaries and other books as a mode of inquiry into hegemonic knowledge-production. The sculptural artworks feature carved apostrophes and other symbols, particularly functioning as charged markers of authority over knowledge. In this instance, Leroy asks: Can there be knowledge that is all-encompassing and absolute? Here, the hollowed and negative spaces on the dictionaries act as "gaps" in knowledge-making, alluding to singular ways of knowing as often determined by worldviews that are thought to be inherent and "natural".
Sofyan's work is also a response to Anthony Chin's
÷
(2020), which looks at porous borders that determine difference and separation.
---
Leroy Sofyan
(b. 1973, Singapore) is an artist and sculptor. His previous career as an Emergency Paramedic exposed him to the grit and grime of everyday living at its most basic, and often traumatic levels. He is concerned with the struggles of the common person and the responsibility of choice. His sculptural practice includes carving wood and stone, and is centred on found objects and tools. His exhibitions include Some Things that Matter, Jendela (Visual Arts Space), Esplanade – Theatres on the Bay, Singapore (2013); If the World Changed, Singapore Biennale (SB2013), Singapore (2013); Asia Contemporary Art: Space and Imagination, Chonnam Provincial Okgwa Museum, South Korea (2010) and Asia Contemporary Art: Now and Next, Gwangju National Museum, South Korea (2010). Sofyan received his BA (Hons) in Fine Art from the University of Huddersfield (U.K) at Nanyang Academy of Fine Arts, Singapore. He is currently a Technical Officer at School of The Arts, Singapore.
︎
Smile Till The Tears Run Into Your Eyes (2020)
BY LIANA YANG
An inquiry into "happiness" and carnal transactions, Liana Yang's
Smile Till The Tears Run Into Your Eyes
(2020) encroaches into wellness spas and Thai Discos (Siam Diu) through appropriated internet footages by anonymous men. These footages offer a straightforward and intrusive accounts of such liminal spaces, hinting on the dynamics of sex, power, and their surreptitious negotiations. Coded through gift-giving and symbolic gestures, Yang presents paraphernalias associated with these transactional pleasures, interrogating notions of the mutually benefit and happiness as asymmetrically patriarchal.
The work is also a response to Thesupersystem's
Miang
(2020), which looks at the performative gesture of coyness and flirting between male-female lovers.
---
By combining photography, video, sound, and found objects,
Liana Yang
is drawn to the aesthetics of social interactions and oddities we encounter in our daily experiences. This includes the enigmatic and unseen aspects of relationships, as well as explorations of memory and associations in contemporary culture. Her research has revolved heavily around observations in contemporary cultures, such as social apps and online media. Lately, her works tap onto the tropes of modern romance and relationships in relation to social economies. Her works and three self-published photobooks have been presented both internationally and in her hometown, Singapore. More recently, she organised and designed "Stay-Home Sessions: How Deep Is Your Love" an online showcase with artworks and dialogue discussions about art practices, curation and education.
︎
Miang (2020)
BY THESUPERSYSTEM
In
Miang
(2020), Thesupersystem, also artist Heider Ismail, ponders on the Malay proverb "Malu-malu kucing" (or "shy cat") which looks at the performance of coyness and flirtatious behaviour between lovers. Using Malay films by the late actor and director P.Ramlee as a point of departure, Miang attempts to explore the act of social attraction in traditional Malay popular culture. Here, Thesupersystem introduces robotics arms that mimic gestures of flirtation that are unending and relational.
The artwork is also a response to Liana Yang's
Smile Till The Tears Run Into Your Eyes
(2020) which looks into the liminal world of pleasure and carnal transactions.
---
Thesupersystem
is the brainchild of Heider Ismail. Started off as a school project, it eventually evolved into a platform that merges technology, science and art. An advocate for environmental activism, Thesupersystem seeks to inform the masses on the importance of climate change. A self-initiated campaign called 'The Jungle Is Neutral' echoes a number of collaborative projects regarding the natural world. Thesupersystem has exhibited in some notable places with the likes of National Gallery Singapore and also London Science Festival. He is currently a student at LASALLE College of the Arts pursuing Masters in Design.
︎
Flection of Curvation (2020)
BY LIYANA ALI
In
Flection of Curvation
(2020), Liyana Ali continues her investment in construction and labour in art-making. Through the handling and moulding of materials, Liyana executes iterative arrangements bounded by odd numbers while exploring a new "sculptural language" as informed by its significance in Islam. Here, many acts of worship follow odd numbers of three, five and seven. In this new work, Liyana negotiates the often objective and systematic approach to her site-specific arrangements with her lived experience, considering concepts of spirituality and rituals.
Liyana's work is a response to Ivan David Ng's
Honestly
and
Generously
(both 2020).
---
Liyana Ali
is an artist born and raised in Singapore. She hopes to intrigue people by looking at the beauty of the material phenomenon. She focuses on the idea of examining negative-positive shapes and spaces that are derived from the traces that she casts from molds of found and constructed wooden structures. Her practice and research include being sensitive to 'ephemeral' factors such as the impact of the environment and how it affects the materiality of the work as it is being made. Another aspect of her interest is how the artist's body and movements impact the discovery of shapes formed by her process of material handling, casting and spatial arrangement. Liyana has a Master of Arts Fine Arts from LASALLE College of the Arts / Goldsmith University of London. She is currently an education officer with the Ministry of Education.
︎
'Honestly' and 'Generously' (2020)
BY IVAN DAVID NG
In Ivan David Ng's
Honestly
and
Generously
(both 2020), textured and predominantly monochromatic paintings compel viewers for a closer inspection. Beckoning for intimacy, Ivan's formalist paintings carry thinly-veiled secrets, particularly for its hidden gestural applications that are dense and palimpsest-like in nature. Achieved through a process of chance and intuitive calculation, Ivan ruminates on the spiritual themes of making-as-creation and "worship", negotiating a world of difference and mutually exclusive beliefs.
In response to Liyana Ali's
Flection of Curvation
(2020), Ivan counts his paintings as a way of making space for himself and others, where spirituality acts as a mediating force in creation.
---
Ivan David Ng
is an interdisciplinary artist-educator raised in the city-state of Singapore. Approaching sculptural forms with a painter's sensibilities, he is interested in ideas surrounding provenance of things, geology and histories, archaeological motifs, the role of play in creating art and finding the art as he makes. He received his BFA in Painting from the Maryland Institute College of Art in 2016, Summa Cum Laude. He has exhibited throughout the United States as well as in Singapore and South Korea. He received the Gold Award (Established Artist Category) in the 39th UOB Painting of the Year in 2020. He has been the recipient of a variety of scholarships and grants such as a Starr Foundation scholarship, a Merit Scholarship by Anderson Ranch Art Center, a Way and Gate Foundation Grant and the Maryland Institute College of Art Chair's Award Research Grant.
︎